Tanzania Safari Luxury: 3 Day Lake Manyara – Lake Eyasi – Ngorongoro Overview:
Name: Tanzania Safari Luxury: Visit Lake Manyara, Lake Eyasi and Ngorongoro
Duration: 3 Days
Start: Arusha at 7 AM
End: Arusha at 4 PM
Safari Highlights
FEATURES OF THIS SAFARI PACKAGE
Lake Manyara
Lake Eyasi
Ngorongoro game reserve
Awesome scenery
Blend of local cultures and tribes people including the Masai etc.
Elephant,Buffallo, Gazelle, dikdik, Giraffe, Lion, Ostrich, Cheetah, Warthog, Flamingoes, Pelicans etc.
Option hot air balloon excursion at Serengeti
Optional Masai village visit (please arrange with your driver guide)
Our 3 Day Tanzania Safari Luxury will take you on an adventure of a lifetime, into the heart of the Tanzanian northern safari circuit. Nowhere else in Africa do we find the sheer numbers of animals, predators and carnivores like the African lion, or the ease with which these animals can be viewed, as in Tanzania.
This 3 Day Tanzania Safari Luxury was designed for the traveller with an adventurous spirit, seeking an intimate experience in the local African Masai tribes, but also still taking advantage of enjoying a wildlife safari which includes visits to Lake Manyara, Lake Eyasi and the famous Ngorongoro Crater which, featurs one of the highest concentrations of game in Africa. Here you will witness an amazing spectacle of African wildlife – inside a self-contained world teeming with animals.
The tour will further take you to the Serengeti National Park, into the heart of wild Africa, a massive wilderness of 14500 square km, where everyday brings a new landscape and a new adventure. You will visit the Lake Manyara National Park, one of Tanzania's most dramatically located wildlife areas, consisting of a shallow but huge soda lake, at the foot of the Great Rift Valley's western escarpment.
The tour also includes a visit to Lake Eyasi a salt lake situated between the Rift Valley's Eyasi escarpment and the Kidero Mountains. The area around Lake Eyasi is inhabited by the Hadzabe bushmen, some of the last remaining hunter-gatherers on the African continent.
This is a suggested or sample Tanzanian safari itinerary – it can be adapted to suite your own personal needs and preferences, or any seasonal changes and migratory animal movements. As with all our African safaris, we have offered you a wide variety of accommodation options – directly impacting on the total safari costs – in order to offer you the widest possible tour budget options.
Jamboree Africa Tours and Safaris Team is happy to welcome you to Africa and sample our safari options.
Please do not hesitate to contact one of our travel consultants directly, should you require any further assistance or more detailed info, regarding any of our Tanzanian safaris.
3 Day Tanzania Luxury Safari to Lake Manyara, Lake Eyasi and Ngorongoro Crater
Arrival
You'll be collected from the airport (or hotel).
Accommodation before the tour departs can be arranged for extra cost.
Day 1: Arusha to Tarangire National Park
After breakfast at the lodge leave for Tarangire National park the third largest park in Tanzania 130 KM from Arusha and you will be amaze by its large herds of elephants that can be encountered in the park. Many animals especially preys are normally gathered around the Tarangire river while predators wait for prey near by the Tarangire river and sometimes Elephants seen digging sand looking for water on middle of the river but Tarangire is where you can do an exceptional game viewing. Dinner and Overnight at Campsite & Lodge
Day 2: Tarangire- Lake Eyasi
Early in the morning we will depart from our Camp/Lodge to Lake Eyasi. Upon arriving there you will get a simple rest before getting a briefing about the history of Bushmen and their existence in this area. Later we will take a simple Visit to the Bushmen Local community to see how they control their life within the bush. This will take us up to late evening.
Overnight at Camp/Tents.
Day 3: Lake Eyasi to Ngorongoro Crater
Early morning we will departure from Lake Eyasi to Ngorongoro conservation area. After checking up on the Gage, we will continue for game drive down the crater with picnic Lunch with you down the crater. Within the crater expect to see lions, elephants, zebras, hippos, flamingos, jackals, Rhino, antelopes, many birds. After great exploration in crater at the late afternoon we will drive back to Arusha.
HAVE A WONDERFUL TOUR – SEE YOU ON THE ROAD……….
PRICE
COST OF THIS TOUR is Indicated On the side Bar
Accommodations for This Safari Option Includes: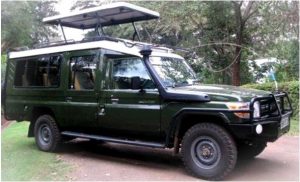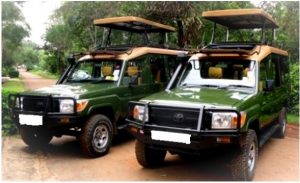 PRICE INCLUDES:
List of Included items for your package:
Walking Safari: Walking Tours/Safari in Lake Eyasi Bush man.
Accommodation: Accommodation as detailed in the itinerary
Meals:All meals noted in the itinerary. Each day generally includes Breakfast, Lunch, and Dinner buffets consisting of both western and local dishes.
Transport: Transportation in standard game viewing safari vehicle complete with pop-up roof for easy viewing and photography.
Sitting Pattern: Every passenger is guaranteed a window seat.
Driver/ Guide: Your driver/guide speaks English and has in-depth knowledge of the flora, fauna, landscape, and Kenyan culture safaris.
Vehicle: A minivan outfitted with two-way, long range high frequency radio communications equipment.
Accessories: Each 4x4 Toyota Hiace minivan carries safari accessories including window sills, a first-aid kit, an ice-chest, and a fire extinguisher.
Water: Bottled mineral water during game drives.
Park Fees: Park entrance fees and game drives as noted in the itinerary.
Taxes: All government taxes, levies, and fees
Transfers: Pick up and drop off transfers.
NOT INCLUDED:
List of Not Included items for your package:
International Flights: International airfares and departures taxes.
Personal Expenses: Personal communications charges for telephone calls, faxes, email, etc.
Tips:: Tips and gratuities for your driver/guide.
Alcohol & Beverages: Alcoholic and non-alcoholic beverages. (Bottled mineral water is provided in the minivan while on game drives.)
Laundry:Laundry services.
Extra Meals:Between meal snacks, parks, attractions, and events not included in your itinerary.
Clothing:Rain jackets, hand cloves.
Balloon Safari:Balloon safari in Maasai Mara (USD$420)per ride.
Village Visits:Maasai village visit.(15_20usd$)
Game Drives at night:Night game drive ($150 per person).