Best Kenya Day Trips: Amazing One Day Tours in Lake Nakuru Overview:
Name: Private Kenya Day Safari Tour: Lake Nakuru National Park Best Day Trip
Safari Type: Kenya private safaris
Duration: 1 Day
Start: Nairobi at 7 AM
End: Nairobi at 4 PM
Safari Highlights
FEATURES OF THIS SAFARI PACKAGE
Flamingo ( Greater and Lesser )including other water birds and a variety of 450 terrestial species
The Makalia waterfalls
unique vegetation of about 550 different plant species including the unique and biggest euphorbia forest in Africa, Picturesque landscape and yellow acacia woodlands.
View- point of Lion hill, Baboon cliff and out of Africa.
56 Mammal species including White rhino, waterbuck etc
Great Rift Valley escarpment
Buffet Lunch
Private Kenya Day Safari Tour visits the Lake Nakuru National Park where we may view the endangered black and white Rhino species, Giraffe, Zebra, Buffalo, Warthog, Lion, Leopard and others.
Bird life is abundant at the Lake Nakuru with possible sighting of the flamingo.
So that you may know…
Driving times in Kenya are estimates and can vary due to road traffic and state of road
Lake Nakuru is known as an ornithological paradise by bird-watchers because the lake is world famous as the location of the greatest bird spectacle on earth which boasts anywhere between one and two million lesser and greater pink flamingos that feed on the abundant algae thriving in the lakes warm waters. This full day excursion to the Lake Nakuru gives you the opportunity to observe the world renowned flamingos as well search for other wildlife such as buffaloes, rhinocerous, giraffes and baboons. Lake Nakuru is world famous also as a sanctuary for both black and white rhino. Besides that, more than 400 species of birds can be seen in the park. Between the lake and the cliffs in the west, large pythons inhabit the dense woodland, and can often be seen crossing the roads or dangling from trees. Book Private Kenya Day Safari Tour with the best tour operator.
Check-in Time: 07:00
Check-out Time: 16:00
Kenya Private tour: This is an exclusively Private Kenya tour.
Can start any day: If availability permits, this tour can start on any day.
Can be customized: You can request changes to this tour.
Suitable for single travelers: Single travelers can join this group tour.
Children policy: Children from the age of 1 year are allowed to participate under the supervision of a parent or guardian.
Minimum age: No minimum age for this tour
Airport transfer available: Jomo Kenyatta International Airport (US$15 per person)
Kenya Day Trip Excursions: Lake Nakuru National Park
Arrival
You'll be collected from the airport (or hotel).
Accommodation before the tour departs can be arranged at extra cost.
NAIROBI-LAKE NAKURU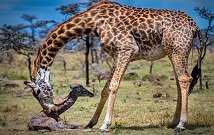 0700hrs: Pick-up from your hotel / residence
Proceed to the Lake Nakuru National park with stops to view the fall of the Great Rift Valley.
Arrive at Nakuru National park and proceed for a game drive on entry
Lunch shall be at a safari lodge within the Lake Nakuru National park.
Extra game and bird watching drive in the national park .
Later take a leisurely drive back to Nairobi arriving in the early evening.
Drop off at your Nairobi hotel / Residence
HAVE A WONDERFUL SAFARI HOLIDAY – SEE YOU ON THE ROAD…….
PRICE FOR THIS TOUR IS ON THE RIGHT SIDE
KARIBU TENA!! "WELCOME AGAIN"
Lunch
Transport
English Speaking Guide
Water
Park Fees
Taxes
List of Not Included items:
Airport Transfers
International Flights
Personal Expenses
Tips
Beverages
Alcohol
Kenya Safari (Per person – Low Season)
1 Pax = USD $330
2 Pax = USD $250
3 Pax = USD $250
4 Pax = USD $230
5 Pax = USD $230
6 Pax = USD $220
7 Pax = USD $220
8 Pax = USD $200
9 Pax = USD $200
Kenya Safari (Per person – Mid Season)
1 Pax = USD $330
2 Pax = USD $250
3 Pax = USD $250
4 Pax = USD $230
5 Pax = USD $230
6 Pax = USD $220
7 Pax = USD $220
8 Pax = USD $200
9 Pax = USD $200
Kenya Safari (Per person – High Season)
1 Pax = USD $330
2 Pax = USD $250
3 Pax = USD $250
4 Pax = USD $230
5 Pax = USD $230
6 Pax = USD $220
7 Pax = USD $220
8 Pax = USD $200
9 Pax = USD $200
Kindly Note transport for this safari is in a Tour Van. You can request for a 4×4 land-cruiser at an extra $100 per day