Elephant orphanage Nairobi Kenya safari – Nairobi city Excursions prices Overview:
Name: Kenya Safari: Elephant Orphanage Nairobi
Safari Type: Private safaris in Kenya
Duration: Half Day
Start: Nairobi at 7 AM
End: Nairobi at 4 PM
Safari Highlights
FEATURES OF THIS SAFARI PACKAGE
Small group ensures personal service
Get up-close to native wildlife
Small group ensures personal service
Nairobi tour
Enjoy Local cuisine
Nairobi is home to many wildlife projects that are open to locals and visitors alike. From the moment you arrive to the city, you are presented with many options to see Giraffe, Rhino, Lions, Elephants, and more, up close and kind of personal. Of the options, the one that called my attention the most was the David Sheldrick Wildlife Trust, also known as the Elephant Orphanage. Jamboree Africa Tours and Safaris is happy to offer you elephant orphanage Nairobi Kenya safari.
It is widely known the damage that poachers have done, and keep doing, to the elephant population (as well as other animals, like rhinos). In an effort to save the baby elephants that are orphaned due to poacher's attacks, the Sheldrick Trust takes charge of being their "adoptive mother" and taking care of them 24/7 – feeding them, making sure they are warm enough, or cold enough if it is too warm, playing with them, and giving them lots of love!
Daphne Sheldrick Animal Orphanage, located in a secluded area of the Nairobi National Park, where orphaned baby elephants amongst other animals are taken care of by a dedicated team of conservationists.
The orphanage is run by Daphne Sheldrick, the wife of the late famous Naturalist, David William Sheldrick who was the founder Warden of Tsavo East National Park in Kenya from its inception in 1948 to 1976.
At 1100 Hours, the baby animals are brought from the National Park for a mud-bath at the orphanage, where for an hour you can get close to them and sometimes touch them.
You may not feed the animals but will get a chance to view the handlers feeding them. The Private Session strictly between 1500 Hours to 1600 Hours each day allows you to see the animals in private and you will be able to interact with them. This requires advance booking of elephant orphanage Nairobi kenya safari with Jamboree Africa Tours and Safaris.
Sheldrick Baby Elephant Orphanage in Nairobi National Park drive takes approximately 45 Minutes and is open one for only an hour daily for the public. You can visit between 1100 Hours and 1200 Hours every day and see the elephants being fed and playing.
In addition, there is a keeper who will give a talk about the elephants, where they came from, how they are getting on, and how some of the previous orphans are progressing. You can get really close to the elephants. The orphanage also takes in rhinos and so if you are lucky you will get the chance to see a young rhino.
Check-in Time: 8:00
Check-out Time: 13:00
Kenya Private tour: This is an exclusively Private Kenya tour.
Can start any day: If availability permits, this tour can start on any day.
Can be customized: You can request changes to this tour.
Suitable for single travelers: Single travelers can join this group tour.
Children policy: Children from the age of 1 year are allowed to participate under the supervision of a parent or guardian.
Minimum age: No minimum age for this tour
Airport transfer available: Jomo Kenyatta International Airport (US$15 per person)
Kenya Day Tours Excursions: Elephant orphanage Nairobi Kenya safari
Arrival
You'll be collected from the airport (or hotel).
Accommodation before the tour departs can be arranged at extra cost.
ELEPHANT ORPHANAGE NAIROBI SAFARI- NAIROBI CITY DAY TOURS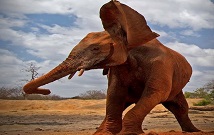 Pick up by 10.30am
1100hrs-1200hrs: Visit the David Sheldrick Elephant orphanage, where young orphaned elephants are brought after being rescued and fed till they are mature to be released to the wild.
The only time that is possible to see the elephants is from 11am to 12 noon. This is the time when the keepers bring the elephants to a cordoned area to play, feed, and to show the public how well they are doing.
While you don't get to feed the elephants, if they get close to you, you can touch and pet them. But, just being there, watching them playing happily with each other and listening to their story, is quite a movie experience.
In addition, you can adopt them! Sure, they won't fit in your backpack, so they stay living in the orphanage until they are mature and strong enough for their release beck into the wildlife.
HAVE A WONDERFUL SAFARI HOLIDAY – SEE YOU ON THE ROAD…….
PRICE FOR THIS TOUR IS ON THE RIGHT SIDE
KARIBU TENA!! "WELCOME AGAIN"
Lunch
Transport
English Speaking Guide
Water
Park Fees
Taxes
List of Not Included items:
Airport Transfers
International Flights
Personal Expenses
Tips
Beverages
Alcohol
Kenya Safari (Per person – Low Season)
1 Pax = USD $100
2 Pax = USD $50
3 Pax = USD $50
4 Pax = USD $50
5 Pax = USD $45
6 Pax = USD $45
7 Pax = USD $40
8 Pax = USD $400
9 Pax = USD $40
Kenya Safari (Per person – Mid Season)
1 Pax = USD $100
2 Pax = USD $50
3 Pax = USD $50
4 Pax = USD $50
5 Pax = USD $45
6 Pax = USD $45
7 Pax = USD $40
8 Pax = USD $400
9 Pax = USD $40
Kenya Safari (Per person – High Season)
1 Pax = USD $100
2 Pax = USD $50
3 Pax = USD $50
4 Pax = USD $50
5 Pax = USD $45
6 Pax = USD $45
7 Pax = USD $40
8 Pax = USD $400
9 Pax = USD $40
Kindly Note transport for this safari is in a Tour Van. You can request for a 4×4 land-cruiser at an extra $100 per day