Nairobi giraffe Centre Kenya tour – Short Nairobi city Excursions prices Overview:
Name: Kenya Safari Excursion: Nairobi Giraffe Centre Kenya tour
Safari Type: Private safaris in Kenya
Duration: Half Day
Start: Nairobi at 7 AM
End: Nairobi at 4 PM
Safari Highlights
FEATURES OF THIS SAFARI PACKAGE
See native wildlife in their natural environment
You can feed the giraffes
Learn more about giraffes and other animals at the Giraffe Center
See how traditional Kazuri beads are made from start to finish
Get a taste of Kenyan culture and wildlife on a guided tour from Nairobi
Jamboree Africa Tours and Safaris is happy to offer you Nairobi giraffe centre Kenya tour. The Giraffe Center was first opened in response to the endangered status of the Rothschild giraffe, the population of which had declined, reaching a low of 130 animals in the wild as a result of agricultural practices in their native habitat. Successful fundraising efforts secured monies to move four herds of these graceful animals to Lake Nakuru National Park, Nasalot Game Reserve, Mwea Game Reserve and Ruma National Park, and the success of these efforts has increased the population to over 500 individual giraffes in Kenya alone.
The most exciting part of Nairobi giraffe centre Kenya tour is the experience of seeing these animals up close and even feeding them! To raise awareness, the center provides free environmental education to young Kenyans and promotes conservation efforts of endangered species in Kenya. The Giraffe Center is open daily and the majority of your entrance fee goes toward supporting the important efforts of the organization. For those who want an up, close and personal wildlife experiences with Rothschild giraffes, Jamboree Africa Tours and Safaris recommends staying at the premier Giraffe Manor, a distinct country home adjacent to the center.
Nairobi giraffe centre Kenya tour explores the Giraffe Centre located at Langata, approximately 20 kilometers from the centre of Nairobi, Kenya. The Giraffe Center is a wonderful and refreshing experience undertaken during African Spice Safaris excursion in Nairobi.
Nairobi Giraffe Centre Kenya tour gives a completely up close and personal interaction where guests have the opportunity to view giraffes as well as feed them. The centre has rescued, hand-reared and released around 500 orphaned giraffes back into the wild since opening in 1979.
Young giraffes born at the Centre were translocated to; Soy Sambu Ranch near Lake Elementaita, and Kigio Conservancy near Gilgil and Sergoit ranch in Eldoret while recently they translocated some to Mwea National Game Reserve . Today the Rothschild Giraffe population in Kenya is about 300.
Jamboree Africa Tours and Safaris Team is happy to welcome you to Africa and sample our safari options.
Please do not hesitate to contact one of our tours consultants directly, should you require any further assistance or more detailed information, regarding any of our African safaris or packages.
Check-in Time: 8:00
Check-out Time: 13:00
Kenya Private tour: This is an exclusively Private Kenya tour.
Can start any day: If availability permits, this tour can start on any day.
Can be customized: You can request changes to this tour.
Suitable for single travelers: Single travelers can join this group tour.
Children policy: Children from the age of 1 year are allowed to participate under the supervision of a parent or guardian.
Minimum age: No minimum age for this tour
Airport transfer available: Jomo Kenyatta International Airport (US$15 per person)
Kenya Day Tours Excursions: Giraffe Centre Nairobi Short Kenya Safari
Arrival
You'll be collected from the airport (or hotel).
Accommodation before the tour departs can be arranged at extra cost.
NAIROBI GIRAFFE CENTRE TOUR EXPERIENCE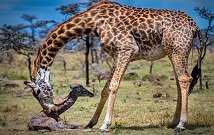 A short drive will take us to the nearby Giraffe Centre, a charitable fund dedicated to giraffe conservation efforts and home to a few of the tall mammals themselves. Take this opportunity to feed the gentle giraffes from a raised platform, and learn a thing or two about the centre and its conservation efforts with an informative talk.
Later head to the Karen Blixen Museum, housed in an old farmhouse at the foot of Ngong Hills, where the author of the popular autobiography Out of Africa lived for almost two decades. The charming old farmhouse has since been converted to a museum with original decor and movie props and has a lovely garden and restaurant.
HAVE A WONDERFUL SAFARI HOLIDAY – SEE YOU ON THE ROAD…….
PRICE FOR THIS TOUR IS ON THE RIGHT SIDE
KARIBU TENA!! "WELCOME AGAIN"
Lunch
Transport
English Speaking Guide
Water
Park Fees
Taxes
List of Not Included items:
Airport Transfers
International Flights
Personal Expenses
Tips
Beverages
Alcohol
Kenya Safari (Per person – Low Season)
1 Pax = USD $100
2 Pax = USD $50
3 Pax = USD $50
4 Pax = USD $50
5 Pax = USD $45
6 Pax = USD $45
7 Pax = USD $40
8 Pax = USD $400
9 Pax = USD $40
Kenya Safari (Per person – Mid Season)
1 Pax = USD $100
2 Pax = USD $50
3 Pax = USD $50
4 Pax = USD $50
5 Pax = USD $45
6 Pax = USD $45
7 Pax = USD $40
8 Pax = USD $400
9 Pax = USD $40
Kenya Safari (Per person – High Season)
1 Pax = USD $100
2 Pax = USD $50
3 Pax = USD $50
4 Pax = USD $50
5 Pax = USD $45
6 Pax = USD $45
7 Pax = USD $40
8 Pax = USD $400
9 Pax = USD $40
Kindly Note transport for this safari is in a Tour Van. You can request for a 4×4 land-cruiser at an extra $100 per day