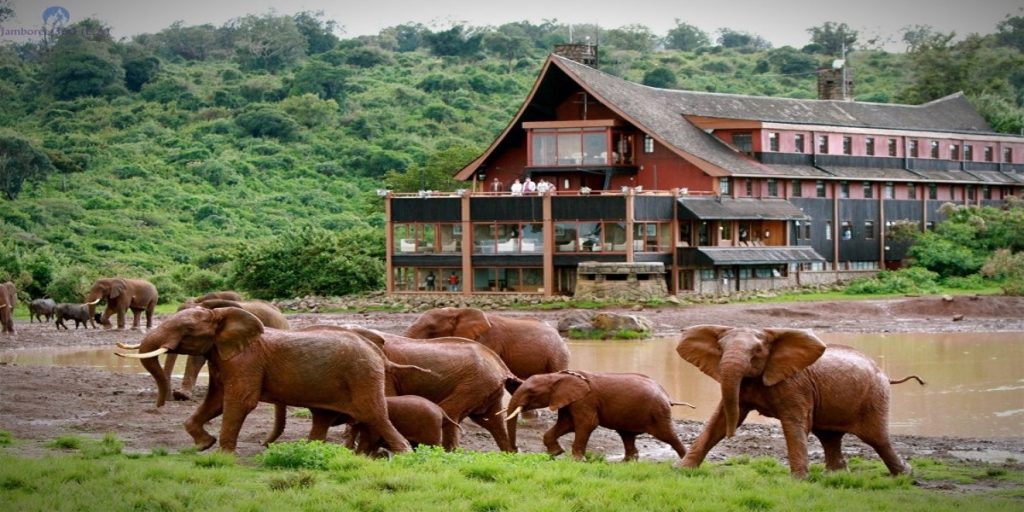 The Aberdare – Kenya Game parks and Reserves
Aberdare National Park is a high altitude national park created to protect the slopes and moorland of the Aberdare Mountains.
Enjoy Topography, Nocturnal Views, Treetops & The Ark
The topography ranges from high moorland, hills and peaks to indigenous forest, ravines, streams and waterfalls. Due to its high altitude, the park is very rainy and misty, with roads that become impassable during the wet season.
The Kenya Wildlife Service and Rhino Ark, a charity dedicated to the protection of the area and its wildlife, run Aberdare National Park. Aberdare is home to the second largest herd of endangered black rhinos.
Many Kenyan animals can be seen here including African elephants, lions, rhinos, black leopard and the elusive bongo antelope. Two of Kenya's best safari lodges are located in Aberdare National Park – Treetops and The Ark. Both provide excellent game viewing at night over the watering hole.
Aberdare History and Overview
Created in 1950, Aberdare National Park was a far-sighted decision to protect the Aberdare Mountains and surrounding wildlife. It is situated 100km (62 miles) north of Nairobi, at the very center of Kenya.
Aberdare National Park covers just 766km², which is small compared to other national parks, and has more difficult terrain due to its location in Kenya's central highlands, to the west of Mount Kenya. The volcanic range of the Aberdare Mountains varies from the high moorland at 3000 meters (9842 feet), to the peaks of Kinangop (3906m/12814 feet) and Ol Donyo Lesatima (3999m/13123 feet).
The rich, red volcanic soil provides excellent growing conditions for the indigenous forest, and lies in stark contrast to both the forest and the mountain's rugged and beautiful peaks.
One of the main features of Aberdare National Park is that it is home to the second largest population of black rhinos, which are an endangered species. Other animals that may be observed in the park include African lions, leopards, baboons, and black and white Colobus monkeys and Sykes monkeys. There are also over 250 species of birds, including hawks, goshawks, eagles, sunbirds and plovers.
There are 60km (37 miles) of primary roads and 396km (246 miles) of secondary roads, but they all become virtually impassable during the rainy season, which lasts from March to May, and to a lesser degree, from October to December. There is still some rainfall and mist year-round due to the high altitude of Aberdare.
Climate in Aberdare National Park
Although Aberdare is close to the equator, the altitude governs the climate. It is cooler than the lower plains and coastal areas, and very misty and rainy year-round.
The wettest months are during the main rainy season, which lasts from March through May, and the shorter rainy season from October to December. At these times, roads become impassable. Over 1000mm of rain falls annually on the northwestern slopes, and 3000mm on the southeastern side of Aberdare National Park.
How to Get to Aberdare National Park
Jamboree Africa Tours and Safaris will make all your travel arrangements through the following means:
By Road: Aberdare is 160km (99 miles) from Nairobi. There is a tarmac road from Nyeri and Naro Moru on the eastern side of Aberdare. However, the best access route is from the towns of Nyahururu and Naivasha. Gates are situated at Ruhuruina, Kiandongoro, Ark, Wandare and Treetops, if approaching from Nyeri. From Nyahururu, we will use the Rhino Gate, Shamata Gate and from Naivasha, use the Mutubio Gate.
By Air: There are two good airstrips for chartered aircrafts at Nyeri and Mweiga, next to the Aberdare National Park headquarters.
What to See and Do
Aberdare National Park offers many activities and tourist attractions, as well as wildlife safaris. See African elephants, lions, rhinos, black leopards and bongo antelope as well as many other animals native to Kenya.
Bird watching is good here, with over 250 species of birds recorded in Aberdare National Park.
Trout fishing in the ice-cold Guru Karuru and Chania Rivers is another popular activity.
You can also take time to admire Lesatima and Kinangop peaks or walk through the moorland and visit the magnificent waterfalls.
Do a nocturnal animal viewing from The Ark or Treetops lodges. In fact, it was while vacationing at the Treetops lodge that Princess Elizabeth of Great Britain learned her father had died, thus making her Queen.
Climb the Twin Hills, Elephant Hills and Table Mountains.
Accommodation in Aberdare Park
Treetops lodge is actually a tree-house lodge, accessed via a gangway rising to treetop level.
The Ark is designed in the shape of Noah's ark and is generally considered to have better views. It offers standard safari lodge accommodation. Both lodges are above ground level overlooking floodlit watering holes and salt licks. There is a bell in each room that is rung if any unusual animal arrives at the watering hole. Nocturnal animal viewing is taken very seriously! Booking in advance to stay in any of these lodges is essential.
The Ark in Aberdare National Park
The Outspan Golf and Country Club the nearest hotel to Karura Falls in Aberdare National Park, offers a spectacular view of Mount Kenya.
Campsites/Bandas
Sapper Hut has two beds and an external bathroom.
Tusk Camp Banda has two bandas to sleep eight guests.
The Fishing Lodge has three bedrooms and two bathrooms to sleep seven guests.
Best Time to Visit Aberdare National Park
January and February are good months to visit Aberdare, as are June to September. March to May is the heavy rainy season and should be avoided because the roads become impassable. There may also be some access problems from October to December.
Read More on Wikipedia.