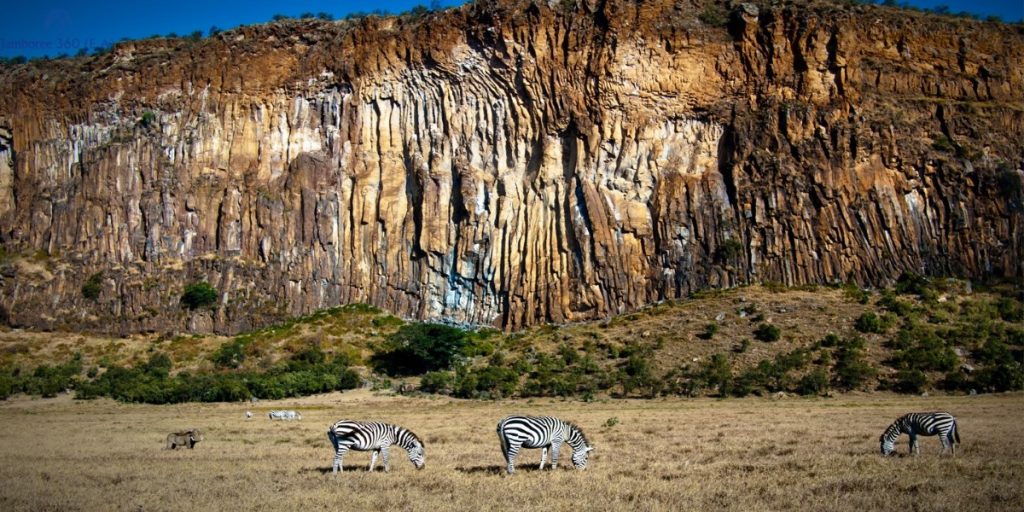 About Hells Gate National Park
Hell's Gate National Park – "A Walk on the Wild Side". The name Hell's gate comes from the intense geothermal activity within its boundaries. Hells Gate National Park is a remarkable quarter of the Great Rift Valley. Spectacular scenery including the towering cliffs, water-gouged gorges, stark rock towers, scrub clad volcanoes and belching plumes of geothermal steam make it one of the most atmospheric Parks in Africa. Hell's Gate is an ideal venue for a day trip from Nairobi where, in addition to the bio-diversity that includes raptors, visitors can enjoy mountain biking, rock climbing and a natural spa.
Hell's Gate is not a Big Five destination. However, there is plenty of wildlife, but aside from buffalo – nothing to worry about – which makes walking and cycling excellent activities. Burchell's zebra, Coke's hartebeest, Thomson's and Grant's gazelle and impalaare the main grazers. You can also encounter Giraffe and Defassa waterbuck. Olive baboons are all over the cliffs. Predators aren't easy to spot, but cheetah is here, while spotted hyena and black-backed jackal can sometimes be seen at dusk.
Check our Hells Gate Kenya safaris
Activities in the Hells Gate National Park includes
Trekking inside the gorges
Bird watching safaris
Educational tours
Bike ride safaris
Rock climbing
Beautiful scenery
Unique accommodation in hotels, safari lodges / tented camps
Wildlife Highlights
The plain-looking Chanler's mountain reedbuck is one of the more unusual antelope species that can be seen in the park. The park is also good for some of the small antelopes like Kirk's dik-dik and steenbok. Predators are shy here, but there is a chance of seeing the elegant serval.
Best Time for Wildlife Viewing
Hell's Gate can be visited for hiking and cycling throughout the year, but wildlife viewing is best in the dry months from June to October when the grass is short. The scenery however, is at its most spectacular during the Wet season from November to May.
Check more on Wikipedia.