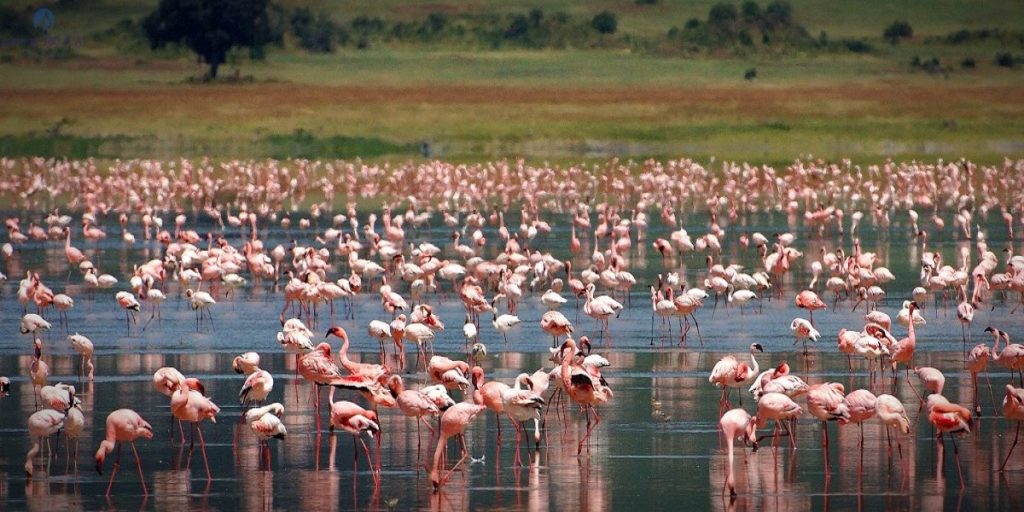 About Ngorongoro Reserve
Tanzania's biggest tourist attraction isn't Zanzibar, nor is it the sprawling plains of the Serengeti but Ngorongoro Conservation Area. The stunning Ngorongoro Conservation Area takes out that honour, and it's with good reason. Exploring this verdant lost world is among the most memorable experiences a traveler is every likely to have.
Key to Ngorongoro's enduring appeal is that sheer variety of experiences within the reserve. It's far more than just a simple game-viewing destination – although in this area it excels. Enjoy a variety of day trips and excursions such as guided hikes, cultural visits, and archaeological sites available to offer a more intimate experience.
As a conservation area rather than a national park, Ngorongoro is unique in that it is a park in which people and Africa's animals live side by side. The local Masai tribes live in harmony with the animals that call the park home, and opportunities to interact with Africa's most famous tribe abound as a result.
Ngorongoro Conservation Area Fact File
Location: Between Lake Manyara National Park and Serengeti National Park.
To Do: Game Drives, Oldupai Gorge Historic Site, Empakai Crater hike, Ol Doinyo Lengai hike, Olmoti Crater hike, and Masai cultural visits.
Known For: Black rhinoceros, stunning views, Masai villages, and the starting point of the Great Wildebeest Migration
Best Time to Visit Ngorongoro
Ngorongoro is unique in that it offers stellar game-viewing opportunities throughout the year. There is no 'off season' in the Ngorongoro Conservation Area.
Check our Ngorongoro Tanzania safaris
Park Highlights
Oldupai Gorge
Once a lake, the Oldupai Gorge was formed over 2 million years ago by the eruption of the Olmoti Volcano. Conditions around the lake proved perfect for preserving evidence of the local human population's movements. You'll also find a near perfectly preserved set of footprints on the site. It remain some of the oldest evidence of human habitation in the world.
The entrance to this striking gorge country is now marked by the popular Oldupai Gorge Museum. This is where you can view a number of artifacts of historic significance. The star attraction at the museum is a plaster mould of these ancient footprints, that allow visitors to form a connection with these ancient wanderers.
The gorge itself makes for quite an impressive sight in its own right, and is home to animals such as giraffes, impala, the Kirk dik-dik, and reptiles such as snakes and brightly coloured Agama lizards.
Ngorongoro Shifting Sands
Beyond Oldupai Gorge lies a remarkable dune of volcanic ash known as 'Shifting Sand'. Moving up to 17m in a single year, this towering black dune moves slowly across the plains as a testament to the enduring power of the Ol Doinyo Lengai Volcano that created it.
Visits to this intriguing local landmark can be arranged through Shadows of Africa, as a trained guide is needed to navigate the Oldupai Gorge region.
Lake Ndutu and Lake Masek
At the head of the Oldupai Gorge are two lakes: Ndutu and Masek. The only sources of fresh water in the area during the dry season, Ndutu and Masek are a popular place for the local animal population. Visitors to the lakes can expect to see giraffes, wildebeest, and zebras in large numbers – especially during calving season when the region is home to the Wildebeest Migration.
The local Masai population use the region for grazing their cattle herds, and other wildlife that can be observed nearby include leopards, reedbuck, the bat-eared fox, hippos, and hyenas.
A large variety of bird life can also be found here, including storks, kestrels, bee-eaters, and swallows.
Olmoti Crater
All that remains of the once proud Olmoti Volcano responsible for creating Oldupai Gorge and sending our ancient ancestors on to safer pastures, Olmoti Crater is a popular spot for hiking and walking safaris.
Accompanied by an armed ranger, it is possible to spend anywhere between two hours and seven hours wandering the crater floor in search of the Bohor reedbuck, cape buffalo, and eland.
Also found within the Olmoti Crater are a number of impressive waterfalls, a diverse array of plant-life, and birds such as the Golden-Winged Sunbird, the Eastern Double-Collared Sunbird, and the Mountain Greenbul.
Empakai Crater Hiking
The area's most popular hiking destination, Empakai Crater's rim provides an unparalleled view of nearby landmarks such as Ol Doinyo Lengai Volcano, distant Mount Kilimanjaro, and the Great Rift Valley.
Like Olmoti, Empapaki can be explored with the aid of an armed ranger, and animals such as blue monkeys, cape buffalo, water bucks, and bushbucks can be found wandering the heavily forested walls of the crater.
Camping on the crater rim is also a possibility, and a popular option for those wanting to get away from the more well-touristed areas of the northern circuit.
Ol Doinyo Lengai
The only volcano in the world to erupt with natrocarbonatite lava rather than the more common sodium carbonate and potassium, Ol Doinyo Lengai is Eastern Africa's only active volcano and a popular hiking destination for visitors to Tanzania.
Meaning 'Sacred Mountain of God', you can read more about hiking on Ol Doinyo Lengai on our blog.
Check more on Wikipedia.