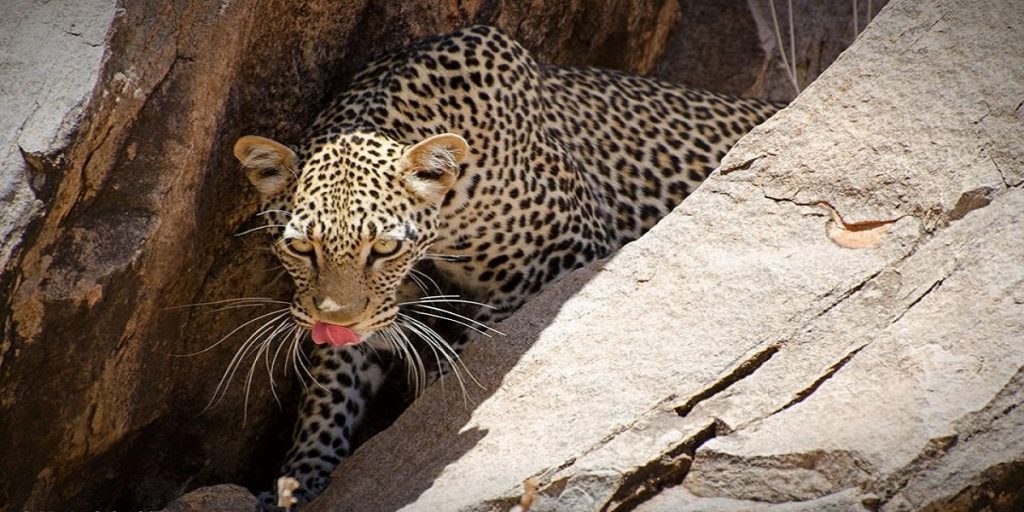 Divided into 3 parts by the Tiva and Galana rivers, the Tsavo East National Park is Kenya's largest National Park covering an area of 11,700sq kms. But its huge size has also been its enemy and the park has been hard hit by poachers who slaughtered horrifying numbers of rhinos, elephants and other species.
At just over 21,000 km sq, Tsavo National Park is the largest national park in Kenya and one of the largest in the world. Because of its size the park was split into two, Tsavo West National park and Tsavo East national park, for easy administration. Midway between Nairobi and Mombasa the area boasts volcanic hills, four rivers, more than 60 major mammal species and 1000 plant species.
Tsavo East National park, across the highway, has rolling scrub-covered hills and is home to large herds of elephant and buffalo. Other places of interest in the area are the small village of Makindu with its Sikh temple and nearby Makindu Handicrafts Co-operative; the Lava Flows of Shetani and Chaimuwhich offer fun caving; and Taveta, which can be used as a base to enjoy swimming with the pygmy crocodiles in Lake Chala or exploring Lake Jipe by motorboat or traditional dugout canoe.
It is a hot, waterless dry region with an annual rainfall of less than 51cm recorded, and has a large diversity of landscapes from the gorges of Lugard falls with its water carved rocks to the natural catchment at Muanda.
The park has dramatic sights of large mammals including great herds of elephant, antelope, hippos, black rhino, eland, lions and giraffe plus a host of birdlife. It is an ideal place for exclusive camping, game circuts and adventures and is the greatest of all Kenya's parks. The middle section of the park has many rock and cave paintings.
Fact File on
Tsavo

East Park

Area : 11,700 sq km Altitude: 200 to 1000 m [656 – 3280 ft]
Access from Nairobi / Mombasa: By Road : 270kms ( 5 hours )
Location : In Eastern and Coast Province, South East of Nairobi
Animals : Numerous – The Big Nine, and plenty other herbivores and birds
Vegetation : Open savannah and light patches of bush, cactuslike euphorbia trees
Facilities : Few lodges and camp sites
Attractions : The Big Five, rock and cave paintings

Check more on Wikipedia.